Vishal John
I Pledge My Support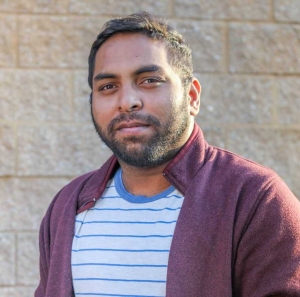 Description:
Intercessory Missionary
Mission Statement:
"Contending for the lost and broken in this generation"
Vishal was born and raised in a Hindu family, one that was completely dedicated to the rituals and traditions of those beliefs. As a child, his father passed away, leaving him with questions about life, purpose and its meaning. In 2003, he had a great encounter with the love of God. During this conference, Vishal surrendered his life and his heart was marked by the Lord.
Before joining IHOP:EG, he was in the hospitality industry for nearly a decade. Since 2015, he has been a part of this house of prayer community. After the completion of his internship, Vishal felt led by the Lord to give his life to prayer and worship, being called to grow in intimacy with God, intercede for the lost and broken, and to see this younger generation walk in their identity.
As a full-time intercessory missionary, Vishal serves in leading prayer and serving in technical support of worship teams. He is also one of the leaders with the Children's Equipping Center and Isaac Academy. In addition, he serves in the Missions Department, ministering to people from various ethnic backgrounds in Paterson, Jersey City, Elizabeth and Cranford.
Vishal is continually looking for prayer and financial partners who will join him in his ministry taking place in this region.
Basic Information
| | |
| --- | --- |
| Country: | United States |
| Region: | New Jersey |
| City: | Linden |
Location
| | |
| --- | --- |
| Linden, New Jersey, United States | Map It |