The Beenengas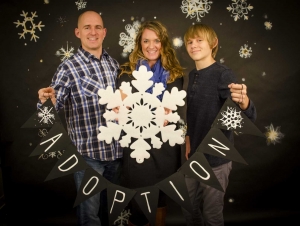 Description:
Thank you for visiting our Fundraising page!
Michael and I met through Hope & Home, an amazing place that finds families to open their homes to do foster care and adoption. Consequently, we have been helping families build their own families through adoption for nearly 8 years (6 years for Michael) all while struggling to build our own family for the last 4 years. We have Adam, our wonderful 14 year-old son from Michael's previous marriage, but our attempts of adding to our family have not been successful.
When we first heard the term "Snowflake Adoption" we dove in and did our research. What we didn't know is that there are over 600,000 frozen embryos out there. For those who were like us several years ago, the term "Snowflake Adoption" was coined when the very first embryo adoption occurred back in 1997 (embryoadoption.org) and has grown over the last 19 years as awareness is being made. Why do we have so many embryos just waiting? Why is there a need for Snowflake Adoptions?
I'm glad you asked! :)
When a couple does IVF (In Vitro Fertilization) often there are more eggs fertilized than what are actually used during their process to build their family. Once the couple is done growing their family, they are then faced with the decision to leave them in storage forever, destroy the embryos (through donating them to research or simply discarding) or third, donate them to another couple. The adopting couple then has the opportunity to not only give life to one or some of these embryos, but also an increased bond is able to happen since the adoption happens 9 months earlier than with any other infant adoption. The adoptive mother is able to be the vessel allowing that little frozen embryo a chance at life.
For more information on Embryo Adoption, here is a website that has more resources and information: www.embryoadoption.org
Our hearts dream is to grow our family. When we first heard about Embryo Adoption, it seemed like such a beautiful thing on so many levels. With embryo adoption, it would not only fulfill our dream of becoming parents together, but it would also give one(or some) of the thousands of frozen snowflake babies a chance at life.
Will you join us in making our family complete by helping us bring a snowflake baby into this world?
How can you join us?
- Will you commit to praying for our family as we navigate new territory as we walk out our calling to Snowflake Adoption?
- Financial contribution through our adoption fundraisers
- Support - there could be many ups and downs throughout this process and we would love your support as we walk through the happy days, as well as the potential hard days.
Mission Statement:
To give life to at least one frozen snowflake baby!
Basic Information
| | |
| --- | --- |
| Country: | United States |
| Region: | Colorado |
| City: | Colorado Springs |
Areas of interest
| | |
| --- | --- |
| Colorado Springs, Colorado, United States | Map It |