The Samuel Lee Toney Sr Foundation
I Pledge My Support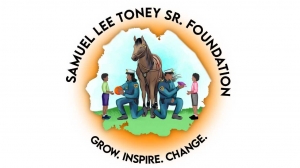 Description:
Focus areas: Empowering our socioeconomically disadvantaged youth MORALLY, EDUCATIONALLY and PROFESSIONALLY through meaningful relationships with police and successful members of the community. 
In Short: This nonprofit was launched in honor of the late Lt. Samuel Toney of the Florence Police Dept in lieu of his 39 tenure in Law Enforcement and his dedication to serving the youth. The SLT Foundation benefits socioeconomically disadvantaged youth morally, educationally and professionally through lasting, close bonds and mentorship with law enforcement personnel and community volunteers. Funds support relationship building initiatives, educational opportunities, and professional experiences. 
Our Three Cornerstones- Morals, Education and Professionalism:
The SLT Foundation operates from the platform of law enforcement support towards the youth. Every young person that becomes embraced within our mission and interacts with SLT will be supported and mentored by a law enforcement officer. This supportive role is designed to be a long-term relationship with consistent bonding activities that provide opportunities for conversation, building trust, and moral growth. It will relaunch Camp Fever (originally launched by Lt. Toney himself) for youth and police officers to bond during the summer while being mentored to follow the right side of the law. It provides relationship-building opportunities year-round for each officer-youth duo such as self defense classes, dance classes, officer/youth lunch, field trips, game nights, horseback riding/horse therapy, driver's ed, and shared hobbies/sports interests. It will provide access to motivational speakers for the youth in an effort to support their mindset towards taking a different and better path than what they have seen around them. 
The SLT Foundation seeks to build up our socioeconomically disadvantaged youth educationally by providing educational field trips, college tours, and tutoring assistance to youth who have the aptitude but not the resources. A scholarship fund for graduating HS Seniors interested in Law Enforcement is in place to present awards each year for those who qualify. 
The SLT Foundation seeks to build up our socioeconomically disadvantaged youth professionally by recognizing their talents, and supporting their growth into prominent career professionals, successful business owners, and bearers of change in law enforcement. It will provide scholarships to young people of scholastic aptitude pursuing areas of law enforcement and grants to young people launching businesses. It will provide professional mentorship to the youth, tailored to their passions, talents, and career goals via a shadowing program with successful professionals within the community. Business certifications, licenses and trainings will be sponsored by SLT for SLT involved youth as well. 
Basic Information
| | |
| --- | --- |
| Phone: | 8434078318 |
| Email: | [email protected] |
| Website: | www.samtoney.com |
| Country: | United States |
| Region: | South Carolina |
| City: | Charleston |