Roberto & Eve Santos
I Pledge My Support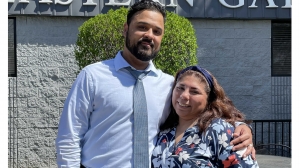 Description:
Roberto and Eve have been part of IHOP Eastern Gate since having gone through the internship program in 2019. Eve serves in the market place while Roberto joined staff as an Intercessory Missionary full time in 2023.
Their daughter, Bella, is also a part of the Eastern Gate community. She participates in Issac Academy, a homeschool Co-op of IHOP EG, and she's grateful to have made close friendships with her brothers and sisters. Roberto and Eve serve in the Co-Op which is part of the Childrens' Equipping Center. This powerful ministry arm of the missions base contends for this generation, praying for and discipling the young ones to prepare them for the return of Jesus.
Roberto serves in the prayer room as a Section Leader and Prayer Leader on intercession sets. Eve and Bella are practicing the piano and hope to one day lead a prayer set as they serve in the prayer room. 
With a heart for evangelism in the NY/NJ Metro Region and even to the ends of the earth, Roberto and Eve believe that praying for and serving the lost will reach the lost. Specifically, they have a heart for orphans and the cast aways, to partner with the Lord to call them home and exalt the value of Jesus in each one of their hearts. They pray to one day be able to raise many children in this calling. 
With others who assist at the missions base, Roberto and Eve lead the kitchen ministry preparing meals on Fridays for the All Community Staff Meetings.
Throughout the week, you just may find Roberto preparing a meal for a brother or sister, a missionary or even a delivery driver dropping off a package.
In their downtime, they love to just relax and eat some good food, watch movies, eat snacks!They also love to fellowship and have friends over.
"FOR THOSE WHO HAVE BEEN FORGIVEN MUCH WILL IN TURN LOVE EVEN MORE"
Basic Information
| | |
| --- | --- |
| Country: | United States |
| Region: | New Jersey |
Location
| | |
| --- | --- |
| New Jersey, United States | Map It |