Kipe Family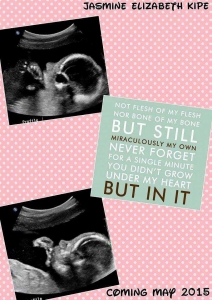 Description:
We are super excited that at the end of April/beginning of May, we will be adding a precious baby girl to our family through adoption. We can not wait to add Princess Jasmine!
Mission Statement:
Of course, with any adoption, there are fees. We are working really hard to save the money but time is of the essence here & so several friends have asked us to start a fundraising campaign to help us along. Any gift is a welcome blessing to our family!
Thanks to your generous donations, we've met our home-study costs. We're so grateful and excited to check that off the list!
Next up, we'll need $2000 by the time she's born. This money goes to the lawyers for filing paperwork to start the process and allow for us to take her home.
After that, it's $2000 for each of three court dates, as we finalize the adoption.