Bill Looft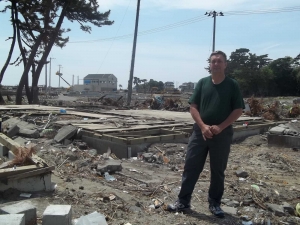 Description:
God has given me a passion for short term missionary work and the disabled. Matthew 28:19
Therefore go and make disciples of all nations, baptizing them in the name of the Father and of the Son and of the Holy Spirit.
Mission Statement:
My goal is to go and show and spread God's love wherever I feel as he is showing me where He is calling me. I have been to Japan in 2011 & 2012 to help with relief efforts with the tsunami & earthquake in the northern part of Japan, 2013 I went to The northern part of Ireland to work with teens showing them that there is better alternatives than drinking and hanging out in the streets. For the past four years for a week in August I volunteer to work at a disabilities retreat with Christian Overcomers at Spruce Lake Resort in the Poconos in Eastern, Pennslivina. Summer of 2014 went to the Philippines for three weeks working alongside of Kids International Ministries outside of Manila doing feedings and with there orphanage. So would you please consider becoming a sponsor as I am asking you for your support in helping me with my calling as all I do I have to pay for 100% of all the expenses out of my pocket. You can also help by Praying for me and the team also. Thank You and God Bless
Basic Information
| | |
| --- | --- |
| Country: | United States |
| Region: | New York |
| City: | Oneida |
Areas of interest
Bill Looft
Giving Powered By:
Helping People, Help People.