Kyle Pagel Benefit
Raised so Far: $0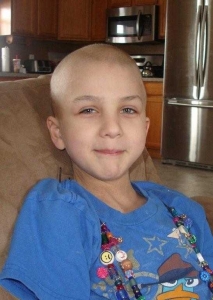 Description:
In September of 2010 seven year old Kyle Pagel started showing symptoms of
what seemed to be the flu. When he was well enough to see a doctor his
parents took him in to have some tests done. The devastating results
showed cancer. Kyle was diagnosed with a rare form of pediatric cancer,
Stage 4 Neuroblastoma, a cancer that is usually found in infants and has no
warning signs. So far the cancer has affected his left adrenal gland,
liver, and bone marrow.
To date Kyle has had many treatments for his disease including Chemotherapy, surgery on his tumor, stem cell transplants, and radiation. He is presently undergoing Immunotherapy at St. Joseph's Hospital in Marshfield, WI.
Although Kyle does have health insurance the expenses to treat his
disease are overwhelming in cost and stress on the family. Kyle's family
has already paid over 5,000.00 in co-pays and over 10,000.00 in travel
expenses to reach the hospitals for his treatments.
Unfortunately due to all the necessary travel Kyle's mother, Megan, had
to quit her job to become a full time caregiver for Kyle. She now takes
care of his medication and is in charge of maintaining his treatment lines
that are necessary for his treatment. Kyle does have a great support
system in his family including his father (Brad), older sister (Melissa),
older brother (Kurt),family, friends and neighbors. Even with all of their
support the everyday stress level on the family is becoming too much. They
all have faith and hope for the future but the financial pressures are
beginning to weigh quite heavily on the family. Their savings has become
nearly depleted and they need help.
Please join us on Sunday April 22nd, 2012 at the Great Dane is Wausau for a benefit in Kyle's honor that will start at noon and conclude at 5pm. Please stay tuned for more information.
Mission Statement:
Helping Kyle and his family raise money!
Basic Information
| | |
| --- | --- |
| Phone: | 715-370-8859 |
| Address: | 5907 Decoy Street |
| Postal: | 54476 |
| Country: | United States |
| Region: | Wisconsin |
| City: | Weston |
Areas of interest
| | |
| --- | --- |
| Weston, Wisconsin, United States | Map It |