Kim Jones House
Raised so Far: $4,584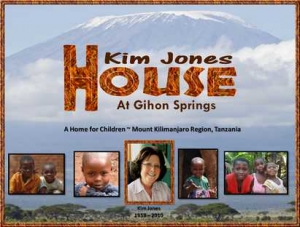 Description:
The orphanage being built on the slopes of Mt. Kilimanjaro, Tanzania is being named KIM JONES HOUSE AT GIHON SPRINGS. Kim Jones, who died in November 2010 of breast cancer, was a friend of the Foundation for Hope in Africa. She had a love for orphaned children and made a trip to Brazil to help a local orphanage in 2005. Kim, her husband Casey, and their business Wynn Jones & Associates, have been consistent donors to the Foundation for many years.
Mission Statement:
An orphanage that will house 25 children and house parents at the foot of Mt Kilimanjaro, Tanzania.
Basic Information
| | |
| --- | --- |
| Website: | http://www.foundationforhopeinafrica.org/kim-jones-house.html |
| Country: | Tanzania, United Republic of |
Areas of interest
Kim Jones House
Giving Powered By:
Helping People, Help People.