Abel & Judy Tirado
I Pledge My Support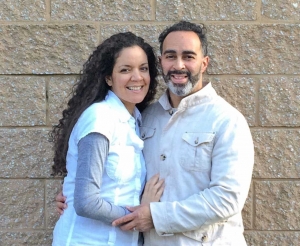 Description:
To know God and to make Him known.
Mission Statement:
Dear Co-Worker,
Abel & Judy have had the honor of being with International House of Prayer - Eastern Gate in Cranford New Jersey. During this time, God has shown Himself exceedingly faithful to them by answering their prayers concerning family, legal and health problems they had and are very excited to share with all what the Lord has been doing in their lives.
This is a unique hour and we are living in a uniquely diverse region of the earth; the harvest has never been more ripe for the Gospel. International House of Prayer - Eastern Gate is committed to raising up and sending out laborers for the Gospel, that many may come to know Jesus. Eastern Gate is a night and day prayer hub for the local believers to gather and pray into the issues that are burning on the heart of God and from that place of prayer we are sent out. Such an endeavor requires a pioneering effort by a team of laborers that we call Intercessory Missionaries.
As Intercessory Missionaries, Judy sings, prayer leads, serves in the prophecy, healing rooms and teaching the children. Abel also serves in the prayer room and healing rooms as they both share JESUS on the streets of Elizabeth and where ever they may serve.
They have committed to give their lives for the sake of Christ, that others may experience God as well. As they serve in ministry, would you prayerfully consider becoming a Monthly Financial Partner, that you, Abel and Judy may Share God's Love and Healing Together? Your contributions will significantly enable them to go forward in the Hope Of His Calling and the mission that God has laid upon their hearts. They look forward to speaking with you soon and thank you for your support of this ministry. May The Lord continue to give you the increase as you sow into His Kingdom.
Our immediate needs:
At the moment we are in need of a car. We have been blessed to have the car we drive and now because of the mileage, it has given us more issues.
We are having a baby!!! Please pray that all goes well as the baby keeps growing. Praise God!
Basic Information
| | |
| --- | --- |
| Country: | United States |
| Region: | New Jersey |
| City: | Cranford |
Areas of interest
| | |
| --- | --- |
| Cranford , New Jersey, United States | Map It |