John and Andrea Simmons
I Pledge My Support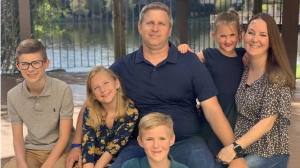 Description:
At the beginning of our marriage,  Andrea and I had our first trip out of the country together for a short term missionary trip to Quito, Ecuador . We learned that anyone with any skill can have a huge impact on missions. Through the years we had the opportunity to go on more trips and meet more missionaries. We learned that missionaries can do very little without the support of others . We even joined a missionary agency for 2 yrs thinking that God wanted us to move overseas. We learned that missionaries are the front lines but for their work to be effective they need a team with a wide range of skills to help them meet the ultimate goal . Through the years God has made it clear that we are to be the support workers that are so desperately needed to help missionaries spread the good news of Jesus Christ. We have had many closed doors but everytime we learned more about missions and grew more in faith. 
In December of 2020 we saw there was an Air show at Lakeland, FL Airport . We walked around and enjoyed the many aspects of the show but there was one tent that we were not going to walk by . This tent was set up just for aviation missionary organizations . We spent a good amount of time there learning about everything that was going on in the aviation ministry . We came to a small table and read one of the shirts . It said "Serving those who serve " . We were sold . That is exactly what we feel called to do . We bought two shirts and asked many questions about their organization . I have been volunteering at Harvest Aviation in Wauchula, FL and they have asked me to come and work with them Full Time . I have been maintaining the building and helping with cargo logistics . When I come on staff I will be the Logistics Manager and will receive training and formal education for other positions as the organization grows.

Like most missionaries and all of the staff at Harvest, we are responsible for raising our own financial support to complete the mission of Serving Those Who Serve. We are seeking to form a team of people who will both surround this ministry in prayer and help fund it. Would you consider being part of this team? I would love to meet with you to share more about our call and how Harvest is serving missionaries .