Tim and Noah Stuckey's Haiti Mission Trip 2019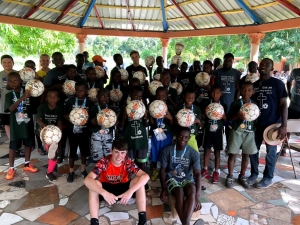 Description:
This donor page is specifically for fundraising for Tim and Noah Stuckey's mission trip to Haiti in June of 2019. Donations received will help pay for travel costs and the soccer camp and medical clinic.
Mission Statement:
Our church has partnered with a Haitian missionary in Pignon, Haiti, for over a decade. In 2015 I traveled to Pignon to work alongside the people there, and at that time committed to returning each summer to run a soccer camp for children in Pignon (and whatever else the mission would like us to do). In addition to the soccer drills/games, each child attending camp gets a free shirt, soccer ball, and a meal each day after camp. Our mission team also will be doing another extensive medical clinic, and Noah and I will help with that each morning as well. We appreciate any support you can provide, whether it be financial or prayer support! Thank you!
Basic Information
There is no information at this time
Areas of interest