Shawn e3 Partners - Strategy Coordinator, Uganda
I Pledge My Support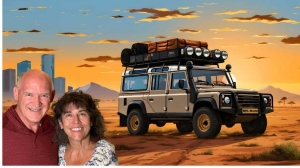 Description:
Partner with the Sullivans as they provide leadership and assist Disciple Making and Church Planting Movements in 5 strategic unreached people groups in the world. By pursuing partnerships, we'll multiply the efforts of all to share the gospel worldwide.
Our Story
In this extraordinary time we live in, God is orchestrating something truly remarkable across the globe.  Though often not obvious, God is always at work through His people spreading His love and grace in communities, all with one ultimate goal: bringing everyone close to Him.
Throughout our journey at CrossBridge Community Church, Becky and I have witnessed the power of faith in action. It has been a joy to grow our missions impact and support individuals in 'Glocal Adventures,' bridging the gap between global impact and local hearts. Together, we've witnessed many people coming to Christ through evangelism, seen new churches start through training, and partnered with local nationals in facilitating Disciple Making Movements.
With the fantastic support of CrossBridge, God has opened up a new season of ministry for Becky and me. We have embraced His call into full-time mission work with e3 Partners. As we pursue partnerships with like minded churches, organzations, and friends both here and overseas, we work to see God grow Disciple Making and Church Planting Movements worldwide.
What is e3 Partners? e3 Partners is a global missions agency that champions Disciple Making and Church Planting  Movements in over 65 nations. We are honored to be part of a passionate family of over 400 dedicated staff and 2,000 national partners, all united in sharing Christ's Gospel with the people groups that are the most unreached.
The Opportunity
We invite you to become a vital part of our mission. Your ongoing prayer and financial support empowers us to thrive in ministry and provide training and equpping to impact unreached people groups with the Gospel.
We believe God hears your prayers and moves in hearts changing what happens on the field, and through your generous financial support, you actively advance God's Kingdom. Your partnership is making an impact on the Kingdom.
Click the 'Give' button above to join us in this journey.
Thank you in advance for your generosity!
We're establishing our base in San Antonio, Texas, and from here, we'll embark on an itinerant ministry journey. Our initial focus will be on Uganda where we'll develop new skills to be a Strategy Coordinator giving leadership to Disciple Making and Church Planting. As we progress, we'll extend our efforts to invest in four other unreached people groups across Europe, the Middle East, and Asia.