Dugan Ward Fund
Raised so Far: $7,680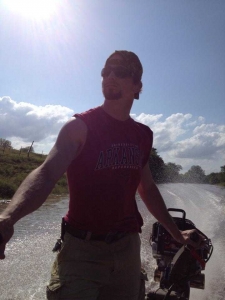 Description:
Dugan Ward Fund
You can mail contributions to:
Debbie Greathouse
719 Little River 21
Ashtown, AR 71822
PLEASE MAKE THE CHECKS PAYABLE TO THE DUGAN WARD FUND
To view Dugan's story:
http://hosting-417.tributes.com/obituary/show/dugan-davis-ward-102551350
Mission Statement:
To allow friends and family an online source to help and support Dugan's wife, Katie, and family with necessary expenses. Dugan, his Mom, DeeDee, and father, Steve, were involved in a tragic accident due to the flooding along the Red River in southwest Arkansas. They were in a boat in a pasture on family land checking property when the accident occured. DeeDee and Steve, along with Dugan and Katie's dog, Daisy, were rescued. However, Dugan who is 28years old has not been found. Searchers will return to look for Dugan when conditions are safe. Dugan has one brother, Will. This family is one of the most loving and giving families in our community. Any help, especially prayers are greatly appreciated.
Basic Information
There is no information at this time
Areas of interest