The Scott Family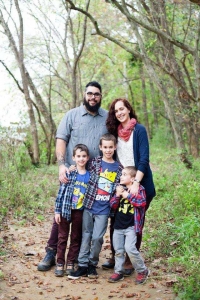 Description:
My husband and I have wanted to adopt for a long time but the timing of it has never really worked out until a recently my husband and I got to talking and I asked him if he would ever consider adopting a special needs child who might need to live with us the rest of their lives. Up until this point he had not felt comfortable with that idea, this time when I asked him he said the Holy Spirit must be doing something in his heart because he felt like that was something he would consider. I joined several advocacy groups on Facebook and told a few friends excitedly that someday we would be adopting, but it would still be a while. Then I saw someone's post about Lily and read the blog about her and I shared about Lily and how kids like her need a home and maybe we should consider if now was the time God was calling us to adopt. After sharing about Lily with my husband he read about her and knew almost immediately that she was meant to be our daughter. So I contacted the woman about Lily and we talked back and forth a good bit, and there was God affirming and giving peace that Lily was meant to be our daughter. We both believe that what the Bible says is true when it says that God knew us before the foundations of the earth. If that is the case then we know that He ordained all of this perfectly in His timing and that at just the right time we would come to be her parents. So here we are now completely clueless about the international adoption world and trusting God's leading to go get our daughter. Both of us are excited and already planning what life will be like when she gets here. Thank you for all your support and to all of you that choose to give financially, thank you so much!
Mission Statement:
***We are using this fund raising page as a way to raise the money we need to bring our sweet daughter home from India through adoption. Please help in any way you can, every little bit helps!***
These verses came to us when we were discussing adopting her and all that it would entail:
"Therefore I tell you, do not be anxious about your life, what you will eat or what you will drink, nor about your body, what you will put on. Is not life more than food, and the body more than clothing? Look at the birds of the air they neither sow nor reap nor gather into barns, and yet your heavenly Father feeds them. Are you not of more value than they? And which of you by being anxious can add a single hour to his span of life? And why are you anxious about clothing? Consider the LILIES of the field, how they grow they neither toil nor spin, yet I tell you, even Solomon in all his glory was not as BEAUTIFUL as one of these. But if God so clothes the grass of the field, which today is alive and tomorrow is thrown into the oven, will he not much more clothe you, O you of little faith? Therefore do not be anxious, saying, What shall we eat? or What shall we drink? or What shall we wear? For the Gentiles seek after all these things, and your heavenly Father knows that you need them all. But seek first the kingdom of God and his righteousness, and all these things will be added to you. Therefore do not be anxious about tomorrow, for tomorrow will be anxious for itself. Sufficient for the day is its own trouble."
***Our God is a good Father and we know He will bring in what we need, may He receive all of the glory for it!***
Basic Information
| | |
| --- | --- |
| Country: | United States |
| Region: | South Carolina |
| City: | Columbia |
Areas of interest
| | |
| --- | --- |
| Columbia, South Carolina, United States | Map It |
The Scott Family
Giving Powered By:
Helping People, Help People.