Sunflower Campaign
I Pledge My Support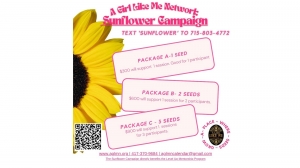 Description:
A Girl Like Me Network was founded in December 2020 when life was still locked in a box, we started
our organization to create a safe space for girls and women to be themselves, learn the world of STEM
and all the layers with it, as well as creating tomorrow leaders. We take pride in our Level Up Program
which has seen over 50 girls participate in. Our program is open to all girls no matter race, ethnicity or
disability. 2023 has been a year for growth in which we have seen an increase in attendance in the Level Up
Mentorship Program. This is a great problem to have, cause this means we are standing by our
mission statement and truly intercepting negative influences in our own space using our own formula
and it's working!
So, our board has created a man awesome Campaign called "Sunflower Campaign", because we are a
place where seeds grow it's necessary we have great people with true intentions to help our little,
medium and big flowers grow. This campaign will allow you to sponsor a girl for up to 3 sessions of our
mentorship group, this will help food, supplies and her experience. Below you can find which package fits you well.
Thank you for taking the time to listen and we hope you choose to find a way to give in some way.

Sunflower Packages:
A) $300- 1 participant
B) $600- 2 participants
C) $900- 3 participants
Each package will include web recognition, 4 lunches with our group and 1-3 speaking engagements at
an event.