Sherry Gomes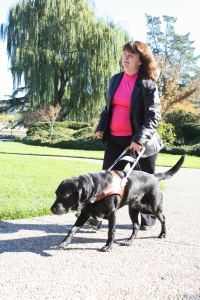 Description:
Sherry Gomes, known as Sherryola by the Fan Fiction community, is one of the bravest people I know. Dealt an incredibly difficult hand in life, she was born with Juvenile Rheumatoid Arthritis (JRA) and suffers from a form that affects every joint in her body, even her jaw. When she was three her right knee was surgically fused, because the pain was so terrible, she could not walk. Over the years, she has undergone multiple joint-replacement surgeries. If that wasn't bad enough, when she was five years old, the JRA attacked Sherry's optic nerve leaving her totally blind.
Rather than being reliant on others, Sherry values her independence and has lived alone since she was eighteen. Unemployment rates for the blind in the US are 75%, but for the last twenty five years, Sherri has worked in a variety of jobs and is currently employed as a subcontractor for an Adaptive Technology Company. While she is incredibly grateful for the work, she is only paid $14.50 an hour, receives no holiday, sick pay, or medical benefits, and hasn't received a pay rise in five years. Keeping a roof over her head and caring for her beloved guide dogs - she's had seven over the years - hasn't been easy. Even with additional disability support payments, she can't afford to fix her teeth or upgrade her basic Medicare coverage, let alone take time off work for shoulder replacement surgery. Last month, Sherry's disability payment was cut off, because they claim she has been overpaid thirty thousand dollars. Hiring a lawyer to appeal the ruling is out of the question, since she struggles to pay for essentials.
Sherry is a lovely, capable, talented lady who, despite her best efforts, is at risk of losing everything. She is loathe to ask for help, so I'm asking for her. Please Give! Every dollar will be greatly appreciated.
Elise de Sallier (One of Sherry's many friends)
Mission Statement:
To raise funds to help Sherry Gomes.
Basic Information
| | |
| --- | --- |
| Website: | http://www.sherrygomeswrites.com/ |
| Country: | United States |
| Region: | Colorado |
| City: | Longmont |
Areas of interest
| | |
| --- | --- |
| Longmont, Colorado, United States | Map It |