Rockin Baby Sling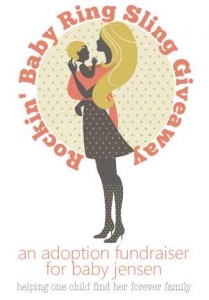 Description:
THANK YOU ALL!!! This Raffle was a HUGE SUCCESS! We will have more to come! So just so you all know this particular raffle is over but we will have a silent LOVE auction soon!
This is something very dear to my heart and I hope everyone jumps on board to help. I'm doing a raffle to help raise money for my friend and local Bradley instructor who is in the process of adopting. For every $5 donated towards the Jensen family, you will be entered to win a gorgeous Rockin' Baby Hero Ring sling (worth $79). These slings are FABULOUS for babywearing. Even more fabulous is that fact that you'll be supporting an orphan find his/her forever family. You have until midnight on January 20th to enter. I'll be announcing the winner on January 21st! Please help spread the word! Go here and donate today.
Mission Statement:
All of the proceeds will be going to Bringing Baby Jensen Home! Giving a child a life outside of being an orphan!