Liberia Motor Bike Project
I Pledge My Support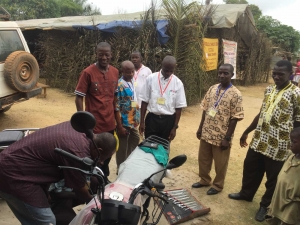 Description:
The advancement of the gospel and the establishment of new churches in Liberia is greatly hindered because of villages being inaccessible - especially during the rainy season.
What circumvents this, saving the health of ECOL church planters and hours upon hours of their time traveling by boat and/or foot, are motor bikes.
To date, through the generosity of donors to KWM, we have been able to supply more than 10 motor bikes which has exponentially brought the gospel to the "ends of the earth" in Liberia.
Such efforts has contributed to the establishment of newly planted churches every year!
In January 2018, at the National Conference of the Evangelical Churches of Liberia, several new pastors / evangelists were sent out - including one to a predominantly muslim population (across Liberian borders) into Gambia. More plans are in the works to continue this work after COVID restraints lessen.
Would you consider making a generous gift that will go toward the purchase of additional, new motor bikes? (costing approximately $1200 each)
Mission Statement:
To encourage and support the ECOL (The Evangelical Churches of Liberia) - an indigenously led church planing movement - to spread the gospel of Christ to thousands and start new churches in the remotest parts of Liberia and Western Africa by purchasing 6 new motor bikes for their use.
Basic Information
| | |
| --- | --- |
| Address: | 3694 Fletcher |
| Postal: | 80538 |
| Country: | United States |
| Region: | Colorado |
| City: | Loveland |
Areas of interest
| | |
| --- | --- |
| Loveland, Colorado, United States | Map It |