Hut to Home
Raised so Far: $75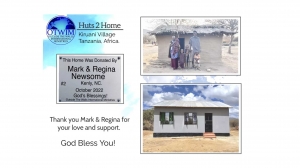 Description:
OTWIM over the next 7 years will knock down 40-50 huts and rebuild new block homes. 850 sq ft living room, kitchen, 3 bed rooms with a wash room. We will provide beds, sheets, mattress, blankets, pillows, cloth line, cooking grill, curtians, plates, cups, utensils, mirror, shelves for clothing, and a kitchen table with chairs for each home.
If you are interested in providing a new home for a family you can do so here. To build a home is $7,500 this will complete a home with furnishings to meet the needs of a family of 5 to 8 in a home. By your givings this will give them a new start and show them that individuals just like you care and wants to see them have a better quality of life. 
Click the give....a family a home...donate today.