Bryant Family
I Pledge My Support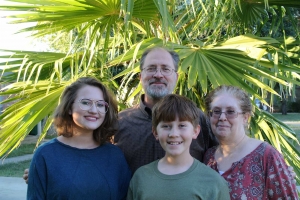 Description:
There are over 108 million people in the Philippines and most of them already think they are in a right relationship with God because of their belief in a system of religion, traditions or works ... and not in Jesus Christ as the only Way, the Truth and the Life. Imagine yourself or your pastor or a teacher trying to reach all these people with the true Gospel message and then trying to teach them sound Biblical doctrine while also teaching them how to go out and be a witness themselves so that even more people will come to know Jesus as Savior ... all without any formal Bible training, resources or personal encouragement to help you do this. This is a very difficult task as I am sure you can imagine. Yet, sadly, this is reality for most of the pastors living in the northern half of the Philippines. The goal of the Shepherd Place is to meet Filipino pastors and teachers where they are and to properly equip and encourage them so that they can reach their country for Jesus. Will you help us help them?
God has already provided many opportunities for us to establish a successful ministry reaching the Filipino people in northern Luzon through a Bible Institute for adults and a Mailbox Bible Club for children and teens. As these areas develop we will also be developing a camp program.
Currently, we are preparing for the ministry in the Philippines even as we continue to raise the needed funds. Because of God's provision through individuals and churches, we already have just over $2100 of the regular monthly support needed to serve in the Philippines ... we need just $1400 more per month. This amount covers not only family household expenses but it also covers ministry expenses like travel and visas. Will you help us reach our goal?
Mission Statement:
The general goal of CBM is to reach children and youth for Jesus Christ and then minister to and disciple them through adulthood. The new ministry in the Philippines will build upon that as we set the following mission statement as our goal: The mission of the Shepherd's Place is to encourage, educate and equip Filipino pastors and teachers by providing Biblical training and resources so that they can effectively reach and disciple the adults and children in their churches, schools and communities.
All Scripture is given by inspiration of God, and is profitable for doctrine, for reproof, for correction, for instruction in righteousness: that the man of God may be perfect, thoroughly furnished unto all good works. II Timothy 3:16-17