Ron Adams
I Pledge My Support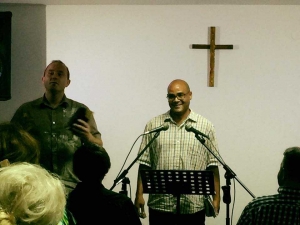 Description:
Intercessory Missionary
Isaac Academy Instructor
Internship Staff
Missions Department Staff
Mission Statement:
Kim and I have been serving as intercessory missionaries at the International House of Prayer: Eastern Gate since 2014. Ron sings, play drums and plays keyboard during devotional and interession sets during the week. Kim and I believe that the House of Prayer is needed for every ministry and every church, as well as for the unbelievers. We know that prayer is the key to usher in a move of God in this nation. Personally, we feel prayer is the glue in which intimacy with Jesus is the center of everything. At the Eastern Gate, we have a heart and a vision to intercede for the lost. Kim and I are in need of prayer and financial partnership to continue our work as intercessory missionaries.