Hilltop Children's House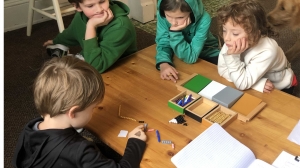 Description:
Hilltop Children's House provides life-changing Montessori programming for children in the poor neighborhoods of Steubenville, Ohio regardless of ability to pay.
Montessori is the only education method that is proven to eliminate the achievement gap due to education. Children low-income families achieve at the same high rate as those from upper-income families if they were in a Montessori program early in their life. 
Montessori is typically only available to upper-income families, however, because such schools are typically independent. We keep our tuition modest by comparison to the state average, and then apply a sliding scale to reduce how much we ask of families who still cannot afford even that amount. We rely on the generosity of donors to make this possible.
Basic Information
| | |
| --- | --- |
| Phone: | 7035178735 |
| Email: | [email protected] |
| Address: | 117 S. Hollywood Blvd., #133 |
| Postal: | 43952 |
| Website: | https://hilltopchildrenshouse.org |
| Country: | United States |
| Region: | Ohio |
| City: | Steubenville |
Location
| | |
| --- | --- |
| Steubenville, Ohio, United States | Map It |