Rains Lighthouse Baptist Building 000234-026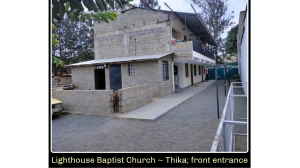 Description:
Lighthouse Baptist Church (LBC) meets in downtown Thika, Kenya. When the church was started in 2010 (with no money of course), we were blessed when a friend let the new church meet in a room for no charge. It wasn't the best room or location but the price was right. By the end of that year God opened the doors for a better room but with a cost, so LBC had to begin paying rent and has been meeting in rented rooms up until December of 2021.
Toward the end of 2021 a building went up for sale on the edge of downtown Thika. Prices for property tend to be a lot in downtown areas of growing cities. God very clearly opened up a way to get the funds to purchase this property for LBC to use as a meeting place. One of the sources of funding was from our home church in Wisconsin. They loaned us $150,000.00 from their building fund and now we are working to pay them back as they are planning to start their building project in the near future. So far around $43,000.00 has been paid back and $107,000.00 is remaining. Please let us know if you have any other questions.