Going Beyond Simulcast
Raised so Far: $0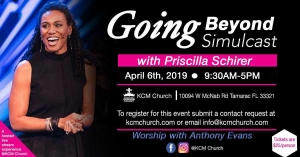 Description:
Going Beyond Simulcast with Priscilla Schirer
Mission Statement:
KCM Church is hosting a simulcast "Going Beyond " with Pricilla Schirer! April 6th, 2019 @9:30 AM. The event is $25 and includes lunch. Our desire is that this event will bring an impact to your lives and uplift you as a virtuous women! Come join us and fellowship with us in God's presence as He takes us beyond where we are now. There is a new level and a new dimension He wants to take us to! Lets Go Beyond!
Basic Information
There is no information at this time
Areas of interest
Going Beyond Simulcast
Giving Powered By:
Helping People, Help People.