Jordan and Tiffany Ziniel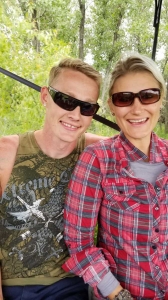 Description:
In December of 2017 we started attending a bible study. The goal of the bible study is to be turned into a disciple of Christ to share the message of Jesus with the world. A few months ago we learned of an opportunity to go to Uganda and share the love of Jesus with people that may never have heard of Him. Immediately we thought this mission trip couldn't be for us because our finances would not be able to support us on this journey, but we needed to find out Gods plan for us before we made any decisions. As we prayed and sought God, we were very surprised to hear His voice telling us to go to Uganda. Once we knew His will we started the process of raising money for the trip. Our first deposit was due in early July and we were confused to find out that we were short of our goal. Why would God call us on this trip but not provide the money to go? God might have been testing our faith because the organization that is sending us to Uganda showed us mercy and bought our plane tickets anyway. Now we are stepping out in faith once again, and relying on the generosity of others, to finish the work that God has started and send us to Uganda.
Mission Statement:
To tell the world about their Heavenly Father who loves us all and wants us to be apart of His Kingdom and to glorify His name in the process.
Basic Information
There is no information at this time
Areas of interest